WE STRIVE TO PREVENT AND CURE DEMENTIA
For decades, Eisai has led the way in dementia research and development. Now we're broadening our scope, taking a multi-dimensional, targeted path to our ultimate goal: prevention and a cure. Here's a quick look at what we're working on right now.
---
HERE'S OUR PRECISION APPROACH TO ACCELERATING NEUROLOGY ADVANCES
Building on 30 years of researching and understanding dementia, we're striving to prevent and cure dementia and AD. Our precision approach to drug discovery research includes:
Human biology: We're leveraging recent genetics research to explore using immunology to regulate processes and mechanisms in certain neurologic conditions.
Translational sciences: By focusing on translational biomarker research early in the discovery process, our scientists can quickly identify which patients might respond to certain therapies.
Collaboration-based research: We're sharing our own research and working in partnerships with other experts to accelerate drug discovery and development.
Diagnostics: We're collaborating with other experts to develop and commercialize simple, cost-effective tools that can easily and accurately help health care professionals screen and diagnose AD.
---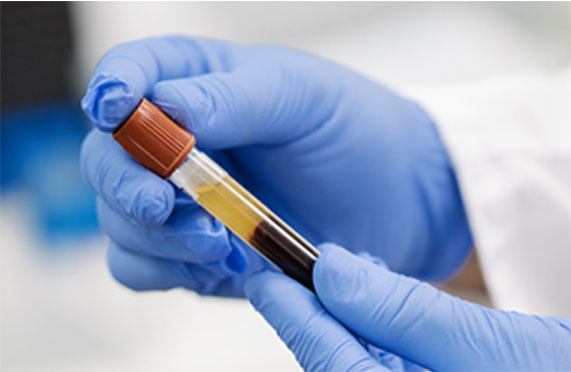 A BLOOD TEST FOR ALZHEIMER'S?
We're collaborating with Sysmex on a potential blood-based test for predicting amyloid pathology. This automated immune-assay system under investigation could also be utilized as a simpler and more cost-effective method to identify participants for clinical trials exploring a variety of AD therapies now in development.
---
Learn from leading AD experts about the A/T/N system and how it may shape clinical practice and therapy development
Discover the A/T/N system – a biomarker-based classification system that classifies individuals using core AD pathophysiological features: amyloid-β(A), tau (T) and neurodegeneration (N). Presented at the 2020 Alzheimer's Association International Conference (AAIC), the three presentations provide a state-of-the-art overview on the validation and qualification of the A/T/N system and its evolution to A/T/N/x for AD clinical practice and therapy development.
"The A/T/N system offers a framework to define Alzheimer's disease in a continuum using biologically rooted measurements. It circumvents the limitations of the traditional, clinical phenotype-based approach, and has the potential to facilitate therapeutic interventions at the early stages of the disease."
Harald Hampel
Chief Medical Officer
Neurology Business Group