From the research and development of symptomatic breakthrough treatment in the 1980s and 1990s, to our current, industry-leading, antibody developments, Eisai has long been at the forefront of Alzheimer's research. Our approach is marked by a drive to identify the root cause and stage of each person's disease so that we may provide the right intervention - including prevention - for the right person, at the right time. Read on to learn more.
View Eisai's Late-Breaking Symposium Presentation at the 2023 Clinical Trials on Alzheimer's Disease Conference
EISAI'S hhc COMMITMENT TO PATIENTS AND FAMILIES WITH AD AND DEMENTIA
"I WANT YOU TO SEE ME, NOT MY ALZHEIMER'S DISEASE." A PATIENT'S STORY BY PHOTOGRAPHER MARK TIMMONS.
---
Understanding Alzheimer's Disease Research
---
Perspectives from Global Experts on the Alzheimer's Disease Patient Journey and Meaningfulness of Clinical Intervention
---
Defining Meaningful Benefits for Alzheimer's Disease Patients & Care Partners Along the Clinical Care Journey
The demonstration of meaningful benefits across Alzheimer's disease (AD) patients, clinicians, and care partners is undeniably critical and varies across different stages of the clinical care journey. Thus, identifying meaningfulness benefits is imperative to move towards slowing disease progression or disease management. Presented at the 2022 Alzheimer's Association International Conference (AAIC), four leading experts describe AD patient perspectives in the contexts of timely diagnostic journey, biomarker utility in AD diagnosis and management, and provide guidance to healthcare professionals that may be helpful when communicating the most relevant outcomes to AD patients and care partners.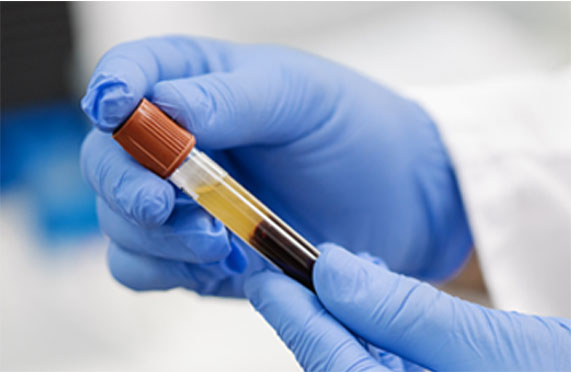 A BLOOD TEST FOR ALZHEIMER'S?
We're collaborating with Sysmex on a potential blood-based test for predicting amyloid pathology. This automated immune-assay system under investigation could also be utilized as a simpler and more cost-effective method to identify participants for clinical trials exploring a variety of AD therapies now in development.