DISCOVERY CENTERS
Looking for the next big breakthroughs in dementia and cancer research? Here are the top 2 places to watch — powered by Eisai.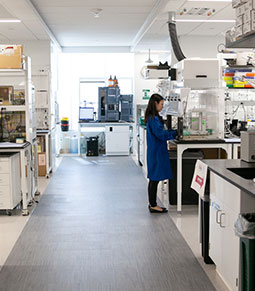 EISAI CENTER FOR GENETICS GUIDED DEMENTIA DISCOVERY (G2D2)
G2D2 is on a mission to accelerate the discovery of breakthrough therapeutics for dementia patients and their families. How? By harnessing the combined power of human genetics, data sciences and precision chemistry.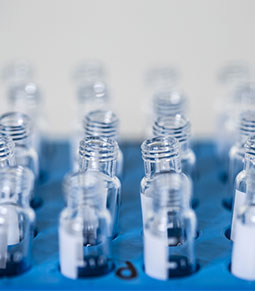 EPOCHAL PRECISION ANTI-CANCER THERAPEUTICS (EPAT)
Chemotherapy is indiscriminate: it kills healthy as well as sick cells. But what if you could create a therapy that exclusively targets cancer cells — and kills them with precisely the right chemical guided by cancer-targeting biological antibodies? That's the kind of precision medicine and diagnostics we're working on at EPAT. We're developing oncology drugs that utilize our unique Antibody-Drug Conjugate (ADC) technology, bispecifics and other emerging biologics. Ultimately, we aim to deliver better therapeutic results with fewer side effects.
EISAI'S INVESTMENTS IN THESE CENTERS IS
OUR MOONSHOT
The stakes are sky-high. The scientific challenges: mind-boggling. And there are no guarantees of success. So — in an era of R&D cutbacks — why on earth is Eisai charging ahead? Why such urgency?
Just ask people living with cancer and dementia.
For them, this is literally life-and-death.
With these people first in our thoughts, there is no hesitation. We will never stop pursuing the next breakthrough that can improve their lives.
For us at Eisai, the questions all come down to this: If not us, who? If not now, when?