G2D2 EMBODIES THE human health care MISSION
Our very reason for existence is to address the world's great unmet need for breakthrough dementia therapies. From day one, we've always given our first thought to patients, their families and caregivers.
WE SPEND AT LEAST 1% OF OUR WORKING HOURS INTERACTING WITH AND LEARNING FROM PATIENTS
That goes for every G2D2 employee. So, what kind of business are we running here? Wouldn't we be more productive if we kept our noses to the grindstone?
Actually, no. We believe the most important part of drug discovery and development is truly understanding the perspectives of patients and their families. And that starts with getting close enough to see the situation through their eyes. The time we spend with patients enables us to empathize with thoughts and feelings that might not always be expressed
in words.
IT'S TIME INCREDIBLY WELL SPENT
The insights we gain by considering the perspectives of patients, their families and the global community apply throughout our day-to-day business. It helps us develop more meaningful responses to their needs; verify the social benefits of our solutions; and ultimately, improve the lives of the people we serve throughout the world.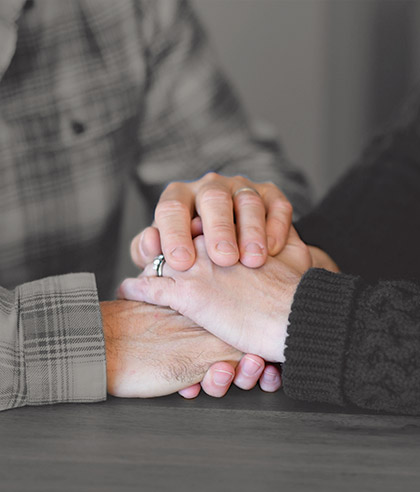 HOW WE ENCOURAGE PATIENTS WITH DEMENTIA TO EXPRESS THEIR EMOTIONS
By getting to know patients with dementia, a G2D2 team learned that they often feel misunderstood, even mistreated by the health care system. In addition, they can experience anxiety and confusion, which can cause them to wander off and become lost. These insights spurred ideas for technology designed to detect anxiety and monitor a patient's location. Ultimately, such solutions might enable physicians to perform in-home biomarker tracking to support clinical programs.