ERIBULIN* ANTIBODY-
DRUG CONJUGATE (ADC) PAYLOAD
---
---
ADVANTAGES OF ERIBULIN-BASED ADC
s

**:
Subnanomolar in vitro anti-mitotic activity
Additional non-mitotic anti-tumor activity
Has shown efficacy in vivo and in vitro efficacy in preclinical models
Well-understood payload toxicity profile
Payload amenable to multiple linker chemistries
Drug-to-antibody ratios (DARs) of 4 or greater with very low aggregate levels
Established payload and ADC manufacturing process
Patent applications are pending for certain ADCs with eribulin as a payload.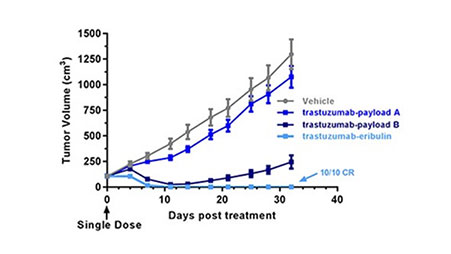 ANTI-TUMOR EFFECTS
Eribulin-based ADCs have durable anti-tumor effects in PDX models
---
ERIBULIN-BASED ADC
s

**
Eribulin can be coupled to a variety of linkers using amine-based chemistries for conjugation to monoclonal antibodies for generation of ADCs.

Eribulin-based ADCs can be readily prepared with drug-to-antibody ratios (DARs) of 4 or greater with excellent retention of desirable biophysical properties, such as low aggregate levels (<1% aggregate).

Eribulin ADCs have demonstrated durable efficacy both

in vitro

and

in vivo

, with very low levels of off-target killing.

Numerous ADCs to various targets have been prepared and evaluated with the eribulin payload, an example of which is shown below: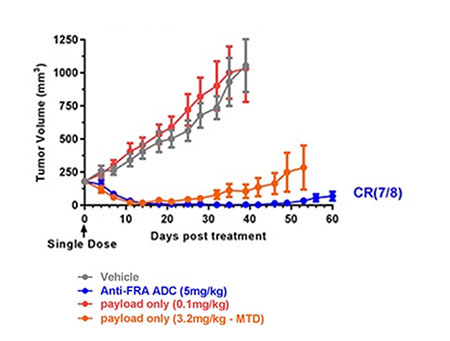 TRIPLE NEGATIVE BREAST CANCER
Triple-negative Breast Cancer
BYSTANDER EFFECTS OF ERIBULIN ADC PAYLOAD DEMONSTRATED IN PRECLINICAL MODELS**
ERIBULIN RELEASED VIA ENDOSOMAL PROCESSING OF THE ADC DISPLAYS SUBNANOMOLAR MITOTIC AND NON-MITOTIC EFFECTS ON BOTH THE TUMOR AND TUMOR MICROENVIRONMENT
The mitotic effects eribulin exhibited as a payload not only include direct cytotoxic effects on receptor-positive cells bound by the ADC, but also on neighboring receptor-negative tumor cells.
This bystander effect on neighboring receptor-negative tumor cells showed synergistic reduction in growth of heterogeneous patient-derived xenograft (PDX) tumors.
Furthermore, released eribulin is highly cytotoxic to the stromal cancer-associated fibroblasts that are critical to supporting tumor growth in many cancers.
ERIBULIN ALSO HAS COMPLEX NON-MITOTIC EFFECTS ON THE TUMOR MICROENVIRONMENT
Eribulin induces vascular remodeling and increases blood perfusion in tumors, thus making a greater percentage of the tumor susceptible and sensitive to subsequently administered therapies.
Eribulin promotes a mesenchymal-to-epithelial transition (MET) phenotype in tumors, leading to reduced metasticity, reduced immunosuppression and increased drug sensitivity.
**These preclinical models do not imply clinical safety or efficacy.
*Any ADC employing eribulin as a payload is investigational and has not been approved by regulatory authorities. For more information on Halaven® (eribulin mesylate), please see www.halaven.com or contact Eisai's Medical Information toll-free number: 1-888-274-2378.