TOTAL REWARDS: OUR TOTAL COMMITMENT TO YOUR WELL-BEING
Discover the many ways we can help you enhance your financial security, professional and personal well-being, work-life balance and more.
COMPETITIVE COMPENSATION
Our compensation programs, base salary, short- and long-term incentives, are designed to pay based on performance, stay competitive and ensure pay equity across gender, race and ethnicity.
BREAKING THROUGH REWARD & RECOGNITION PROGRAM
Our employees are encouraged to recognize and celebrate each other for their great work and demonstration of Eisai's values with reward points that can be redeemed for merchandise, travel, experiences or gift cards.
HEALTH, LIFE, DISABILITY AND BUSINESS TRAVEL INSURANCE
At Eisai, we regularly assess the competitiveness and cost-effectiveness of our benefits program to ensure that we continue to offer the highest-ranked active healthcare plan (medical/prescription/dental/vision) amongst the top global pharmaceutical firms.
We offer life, disability and business travel insurance to protect employees from unforeseen events. Employees may also purchase additional life insurance coverage for themselves and family members, as well as legal, home, auto or pet insurance at discounted group rates.
EISAI RETIREMENT PLAN
We help you grow your nest egg in three powerful ways:
○ 100% 401(k) match of the first 3% of your salary that you defer
○ 50% match of your next 2% deferral
○ An Employer Annual Contribution — a non-contributory, discretionary payment to help you save for retirement
FLEXIBLE WAYS OF WORKING
We provide a vibrant, hybrid work environment, technology to facilitate whenever/wherever connectivity, and the opportunity for many Eisai employees to work from home.
EMPLOYEE REFERRAL PROGRAM
As part of Eisai's strategic plan to recruit "the best of the best," we encourage all employees to refer candidates by offering a cash bonus award.
WELLBEING@EISAI
We offer a wide range of resources to enhance the quality of life for our employees, including:
○ Summer Hours for six months of the year
○ On-site Well-being Coaches help employees and their spouses set personal health goals and achieve healthier lifestyles.
○ Well-being Webinars covering all aspects of well-being, from nutrition to financial health
○ Know Your Numbers biometric screening and health risk assessment program
○ 12-week Diabetes Prevention Program to help prevent or reduce the risk of developing type 2 diabetes
○ Fitness Challenges throughout the year
○ Mental Health Program to raise awareness about the importance of good mental health, and to provide tools and resources to reduce the stigma around mental health issues
WORK-LIFE PROGRAMS
Partnering with Humana, we provide a whole spectrum of services at no cost to our employees, including:
○ Identifying high quality child, elder or pet care
○ Coping with grief and loss
○ Paying for school
○ Resolving legal, financial or relationship problems
○ Helping with depression, weight loss and chemical dependency issues
○ Confidential and professional counseling for employees and family members
The above information is a brief summary of the rewards and benefits offered by the Company. Eisai reserves the right to amend, modify, and/or terminate any benefits (and the plans and policies that govern such benefits) in its sole discretion. If any discrepancies exist between the above descriptions and any applicable plan documents or policies, such documents or policies will prevail.
CIGNA RECOGNIZES OUR WORKPLACE WELLNESS PROGRAM AMONG THE BEST IN NY/NJ
Cigna named Eisai as one of the top companies in the New York/ New Jersey region to achieve the highest honor in its annual assessment of workplace wellness program in 2020 and 2021!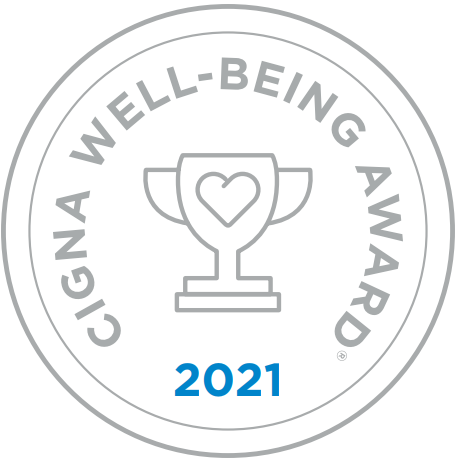 WE'RE A HEALTHY WORKPLACE!
The American Heart Association (AHA) has awarded our well-being program three years in a row! In 2019, we received Silver Level recognition and in 2020 and 2021, our program received Gold Level recognition in the Workplace Health Achievement Index!